Son Rise Morning Show Water Bottle
$ 10.00
Slim BPA free plastic bottle holds 24 oz. 
Screw on lid with built-in handle has a flip-up drinking spout and straw.
Features the Son Rise Morning Show logo!
Will be shipping in early September.
View product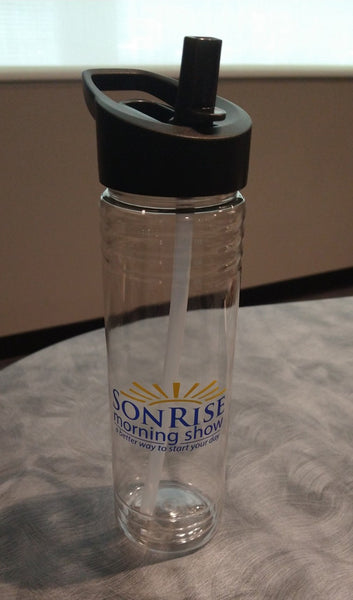 About Us
Since 2001, Sacred Heart Radio has broadcast Catholic programming to the area 24 hours a day, seven days a week. Beginning with one station (WNOP, Newport's famous "floating radio station") and two employees. Sacred Heart Radio now operates 3 local radio stations on 740 AM, heard in Cincinnati and Covington, 89.5 FM for our listeners in the Tri-County area of Hamilton and Fairfield and 910 AM that covers Middletown and Dayton and beyond to the north of Cincinnati.
Sacred Heart Radio produces the Son Rise Morning Show heard across the country on over 400 Catholic stations from 6-8 am with co-hosts Anna Mitchell and Matt Swaim and Driving Home the Faith with Fr. Rob Jack, heard locally from 4-6 pm weekdays in addition to carrying network programs from EWTN and Ave Maria Radio.